Harvest Homecoming 2023: The Wild Call
September 1
at
3:00 pm
to
September 4
at
3:00 pm
You are unique. You heard a Wild Call— to walk a different path than anything you were likely to have known from your upbringing.
You responded to this Wild Call. It took courage and daring to be different; an adventurous spirit to find others who are the kin of your soul.
In these current times, it is important that we remain stalwart and true to our Wild Call; to stay strong in our own identities and connection to a larger community– all that unites us, all that connects us.
Come home to Oak Spirit Sanctuary and recharge yourself: celebrate your Wild Call, connect with the land we call home, and refresh yourself with community at this four day event.
Featured at this Event:
Friday:
Meet and Greet Social Time
Opening Ritual
Bardic Circle Community Fire Time
Saturday:
Workshop with our Special Presenter
Crafting Activities (ongoing)
Triple Goddess Grape Stomp
Chili Contest
Community Potluck
Main Ritual
Featured Musical Performance
Bardic Circle Community Fire Time
Sunday:
Additional Workshops
Children's Field Games
Guided Land Hikes
Annual Community Church Meeting–Open to the Public. Attendance for only this meeting does not require registration or payment
Candlelight Spiral Labyrinth
Bardic Circle Community Fire Time
Monday:
Additional Workshops
Closing Ritual
A full printed schedule will be available at the event.
Special Guest Presenter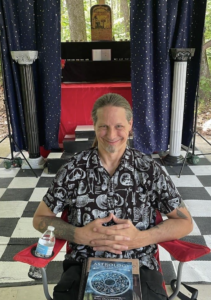 Right Reverend Bill Duvendack
Oak Spirit Sanctuary is pleased to welcome back Right Rev. Bill Duvendack. He is an internationally known astrologer, long time practitioner of the western mysteries, author, psychic, tarot reader, and teacher.
For Bill's full biography and website visit: 418 Ascendant
Special Musical Performer
Beltana Spellsinger
Beltana lives in the southern MO Ozarks with her family on their 166 acre nature preserve called Wolvenwold. She creates original music, records in her spare time, and plans on building a cob Cottage called Earth Castle on her family land, among other things…
For Beltana's full biography and website visit: Beltana Spellsinger
Call for Community Participation!
Calling for Chili Chefs!
Bring your best chili recipe for a taste-test judging contest and see if yours is the winner! Community Potluck will immediately follow the chili judging so your chili will become your contribution to the shared meal.
Calling for Art Raffle/Auction Donations
Art and Craft pieces are always welcome donations that help fundraise at the two biggest events for OSS: Harvest Homecoming and Beltane. Your free-will donated item is greatly appreciated and will be used for this or future events.
Call for Vendors
Vending registration is closed. Please visit and support the vendors at the event!
Call for Community Volunteering
Many hands make light work! We are asking participants to volunteer to help with the tasks of this event. Time commitment is minimal, with flexible timeframes to do the tasks so you don't miss any parts of the event. Take Down crew would be the most vigorous and longer shifts of the available tasks at the end of the event.
Please sign up for a task onsite when you check in at registration.
Call for Candidates for Oak Spirit!
Have you attended events or work days at Oak Spirit Sanctuary a cumulative total of 13 times, visiting at some point in each of the four seasons? You are a candidate to become an Oak Spirit! Please let us know if you would like to receive your Oak Spirit Certificate at this event. If you think you qualify, email info@oakspiritsanctuary.org.
Items to bring for this event
Specific for this event's programming, rituals, and activities:
Snacks, Appetizers, Alcoholic beverages, & Non-alcoholic drinks if you wish to contribute something to the opening Social Hour
A potluck dish for about 10 to 12 people with ingredients labelled. Please keep your food item appropriately cooled for food safety considerations until cooking or presenting. If you need help with keeping your item cold until needed, let an event organizer know.
Chili for the Chili Cook-off if you wish to enter. This dish will then immediately become part of the community potluck
Grapes (any kind of grapes) for the Triple Goddess Grape Stomp
Offering for the God and Goddess Shrine (flowers, fruit, natural items not made of synthetic materials.)
Offering for the "Grain Basket" for Main Ritual. Garden produce, bread, flowers from your garden, etc. (These will not be returned.)
Since the weather may be hot: fun water play items to keep cool. Toys like super soakers, small kiddie pools (inflatable or solid plastic), but no plastic water balloons please. Bring swimsuit, if desired.
Pricing and Registration
There is no entry to this event without paid registration.
Online registration is now closed. Please register at the gate.
Children 17 years and younger are free.

Early Discount Until August 14
August 15 to August 28
Regular Price
At the Gate Price
Full Event Registration
$45.00
$55.00
$60.00
Day Pass for Saturday or Sunday
$25.00
$25.00
$30.00
Gate Hours
Event opens at 3:00 pm on Friday September 1, 2023
Event ends at 3:00 pm Monday September 4, 2023 (Labor Day)
Gate opens at 8:00 am Saturday and Sunday mornings.
When you arrive please check in at the registration booth.
Gate will close at 9:00 PM each evening. No entry from 9:00 pm unless other arrangements have been made by contacting info@oakspiritsanctuary.org.
Questions?
We have answers! Contact info@oakspiritsanctuary.org