Yule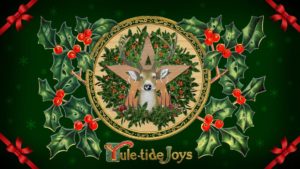 December 17, 2022
at
2:00 pm
to
11:00 pm
Join us for a family-friendly celebration of the Winter Solstice.
Free event. All are welcome!
What to Bring:
If you would like to participate in the gift exchange, bring a small gift.
Please bring a potluck side dish or dessert enough for about 10 to 12 people with ingredients list. OSS will provide turkey, gravy, mashed potatoes, & dressing for the potluck meal
Schedule:
2pm – 5pm (ongoing) Tree decorating, crafts, socializing.
2pm – Workshop "Helping out in Circle: Working together as a team in group rituals"
4pm – Magical gift exchange (bring a gift / get a gift)
4:30 – A visit from Father Yule
5-5:30 pm – Solstice caroling
6pm – Solstice ritual including Mummers Play
7pm and after – Community potluck and merriment inside and around the bonfire.