Oak Spirit Sanctuary is a diverse nature-centric community. People from many different beliefs and paths come to our events. What unites us is desire to care for nature and honor nature's role in spirituality — and a willingness to see the magical side of the world. In practical terms, we do this through hosting seasonal rituals and festivals, chanting songs around the bonfire, and connecting to the forests and fields of OSS' lands.
All are welcome at our monthly lunar gathering and potluck (on the Saturday nearest the full moon), as well as our Sabbat festivals, which we celebrate based on the Wheel of the Year. Find upcoming events on our event page or Facebook page.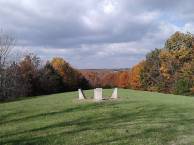 Our 160-acres of forest and campgrounds is also available for rental by outside groups. Please contact us at info@oakspiritsanctuary.org for more information!
Finally, friends of Oak Spirit Sanctuary are welcome to camp on the land when no events are scheduled. Please visit the Camping Information and Registration Page for current policies and rates. More information is on our Visiting page.
We have a Facebook page and thriving Facebook group for more detailed conversations in our community. Frequent announcements about events, the land, and community news are made there.
---
Oak Spirit Sanctuary is a pagan church and sacred land preserve which provides opportunity for spiritual practice, fellowship, and communion with nature for people with diverse beliefs and a safe environment welcoming to all who would walk in peace. (Revised October 2021)
Visitors are welcome at events; for camping or day visits; and as part of outside event rentals. Visitors should check in at the retreat center and are expected to follow our Natural Laws on how to treat the land and people at OSS. More information about visiting.
Save