Oak Spirit Sanctuary (OSS) is a 501(c)3 church of Shamanic Wicca, focused on work with spirits of Nature drawing from a variety of traditional earth-centered religious and magickal systems. Our rituals use a classic Wiccan foundation, with elements from Celtic, Native American, Faerie, Norse, and other traditions. We maintain our land as a nature sanctuary where visitors can find spiritual nourishment. Formerly known as Ozark Avalon, we became Oak Spirit Sanctuary in 2012.
All are welcome at our monthly lunar gathering and potluck (on the Saturday nearest the full moon), as well as our Sabbat festivals, which we celebrate based on the Wheel of the Year. Find upcoming events on our event page or Facebook page.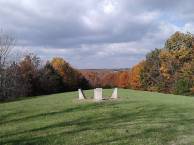 Our 160-acres of forest and campgrounds is also available for rental by outside groups. Please contact us at info@oakspiritsanctuary.org for more information!
Finally, friends of Oak Spirit Sanctuary are welcome to camp on the land when no events are scheduled. Please check in upon arrival. There is a fee of $10/campsite. More information is on our Visiting page.
We have a Facebook page and thriving Facebook group for more detailed conversations in our community. Frequent announcements about events, the land, and community news are made there.
---
Oak Spirit Sanctuary is a church of Shamanic Wicca and nature sanctuary. We provide access to Nature and a safe place for outdoor worship in an earth-centered, earth-honoring spiritual context, promoting community among persons of these beliefs. Our practices include environmentalism, appreciation for nature spirits, honor of the earth, and community building. Our primary outreach is operating a Pagan land sanctuary and spiritual retreat center. We offer a variety of educational opportunities from basics to clergy training. Our Land Management is done from an environmental, magickal, and spiritual perspective.
OSS Shamanic Wicca venerates the Divine as God and Goddess, manifested in Nature, by celebrating the cycles of the seasons in the Wheel of the Year, Sabbats, Phases of the Moon, and Esbats, in an eclectic fashion honoring the Masculine and the Feminine in all Their aspects. We believe Nature is a manifestation of God and Goddess as immanence and continuous creation. Thus humankind is related to, and not set above, all other life. We follow the Three-Fold-Law and the Wiccan Rede. By embracing personal responsibility, we profess our interconnections with all life. This is expressed by stewardship of the Earth, respect for all life, and each other.
Oak Spirits are the church, as our name implies. Becoming an Oak Spirit involves showing dedication to the church through participation, adherence to our Natural Laws and the Visiting Rules and Regulations. If you would like to know more about Oak Spirits, please feel free to ask an Oak Spirit, board member or clergy.  
 Visitors are welcome at events; for camping or day visits; and as part of outside event rentals. Visitors should check in at the retreat center and are expected to follow our Natural Laws on how to treat the land and people at OSS.  More information about visiting.  
Save